The cover story for the April 2008 issue of Alive & Kicking is based on and written by Kevin Seconds and Kepi Ghoulie. Jerry Perry, founder and editor of A&K, gets a ton of really stupid emails and phone calls from bands asking to be on the cover of A&K every month. Generally these are bands that are really new, don't have a CD out, and don't put much effort into promoting themselves...in other words, NOT A&K cover material. In this story, Kevin and Kepi each write Jerry a joke email trying to convince him to let them have the cover for March, and why they deserve it.


It's a pretty funny read, and features some side-notes and illustrations by Jerry, including this hilarious photoshopped masterpiece that I am going to include here because it ended up being too small to work in the actual paper.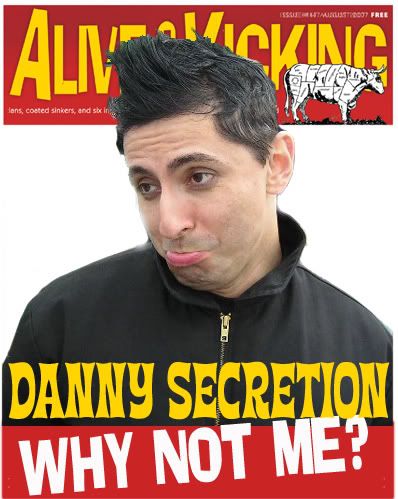 In one of Jerry's side comments, he joked about how he already had a cover story planned, but he guesses he can bump the guy to some other month. In the margin, he put a mock-up cover with a picture that I swiped off of Danny's Flickr account. I can't help but laugh everytime I see it.

Pick up your copy of Alive & Kicking soon. You can find them at True Love Coffeehouse and most records stores and coffee shops downtown.