I was thinking today about who the first late Secretin of the Week should be and decided (for no particular reason relating to tardiness) that is should be Joe Friday. I remember when he started coming to shows and how unadulterated and pure his enthusiasm for music was, and remains to this day. He went from Secretin in the pit to having his very own band! Here's a little about the disgusteen...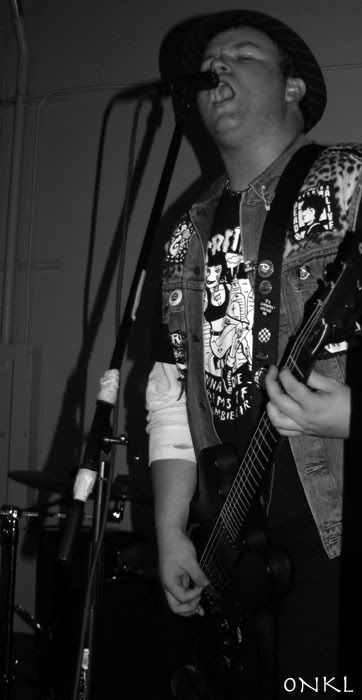 Name: Joe Friday
Band: The Disgusteens
Age: 17
City: Vacaville, CA
School: Homeschooled (Shocking, I know)

Favorite Secretions Song: Hmm... I'm gonna have to go with "Zombie Girl" on this one.

Favorite Secretions Cover: Either their version of the Ramones "Smash You" or the Queers "Stupid Fucking Vegan". Gotta love the irony on that cover choice.

Favorite Secretions Album: "Til Death". It's definatly the hardest album, in my opinion. I think "Coming To Save The World" comes in second because it was my first album.

Favorite Secretions Video: "I'm Gonna Get You So Laid". It reminds me of something The Disgusteens would do.

Favorite Secretion: Gah, I don't wanna pick.

When did you first see the Secretions?
I saw them in May of 2007. I think it was the 23rd. Not 100% sure. But it was at the Phoenix Theater in Petaluma, CA and it was one of the "Rock N' Roll Three-Way" release shows with Final Summation, Ashtray and Those Unknown opening the show. It was my second time seeing Ashtray and my first time seeing Final Summation and The Secretions. I met Lys Mayo before the show. I was nervous because I usually don't talk to girls I don't know. But she didn't slap me and call me a "weirdo", so I figured she was cool (We're good friends now). Meeting The Secretions was surreal for me (at the time). Now I've grown close to them and look back and think, "Why was I so damn nervous?" Anyways... That show was not to long after the Groovie Ghoulies had broken up, so The Secretions closed with "The Beast With Five Hands". I have the set list up on my wall from that show (Danny wrote "Joe is hung like an african rhino!") and one of Danny's broken drumsticks.

Describe your favorite Secretions related memory.
I have to pick one? I think going to see the SOS show at Casa De Chaos in 2007 at the "secret" show at Casa De Chaos in 2008, because at both of those I got to sing with them. At SOS I sang my heart out on "Zombie Girl". And at the "secret" show I sang "3 Chords and a Fuck You".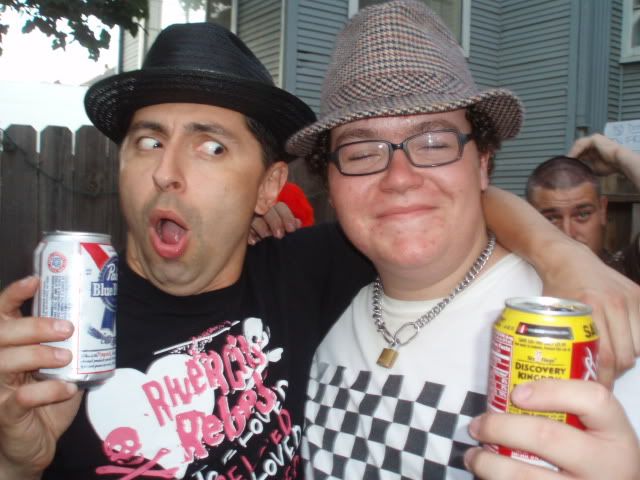 Do your parents know you're a Secretin, how do they feel about it?
They figure there's worse things I could be doing.

Do you have a favorite Secretions related picture?
There's a picture from SOS when I got a picture taken with Danny. The first is just with his arm around me and a PBR in his other hand. The second picture is with his lips planted on my cheek. Erin took the picture and I'm surprise she didn't slap both of us!

Tell me a little bit about your band, the Disgusteens. Like how you started.
Short version: We started in May of 2007 after a band Derek Hazard and I were in broke up. We got our friend Buddy GFN to drum for us and we played our first show that same month in our friend Dana's backyard. We soon got Paul Redd on bass and then Brian O'Blood got our attention, so he replaced Buddy on drums. We recorded the "Nuclear Girl" single and Danny played it on "The Blitzkreig Zone" and someone thought it was an old Germs song. We played at Danny's Birthday Bash in November and have been played Sacramento since.

What's with the tentative name change?
Eh, we got bored. But we wised up.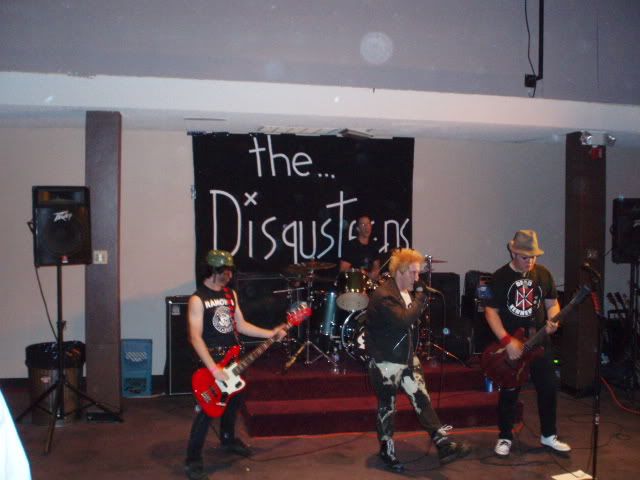 What do you want to see on the Secretin Life Line or what ideas/items do you want to contribute?
Song of the week. Maybe a little story about the chosen song. Eh?

What are your top five favorite albums ever and why?
The Beatles - The Beatles (the White Album)
This is the album that got me to play guitar, especially the song "While My Guitar Gently Weeps". I wouldn't be who I am without the Beatles. They are my all time favorite band.

The Ramones - Road To Ruin
The Ramones are the reason why I am into punk rock. Adam from No Admission turned me onto them, so I guess he's to blame. This is such a great album and "I Wanna Be Sedated" is a great song to drive people crazy with.

Operation Ivy - Energy
This album was the soundtrack to my summer of 2006. I used to be in a little garage band called The Inverts and we used to play "Knowledge" all them damn time! One of the best albums to come out of the Bay Area.

Social Distortion - Mommy's Little Monster
This album is like The Bible to The Disgusteens. Social Distortion is our biggest influence. It's one album that I never get tired of. It's a testament to the early 80s LA/OC punk scene.

The Clash - The Clash
One of the best albums by the only band that matters. Joe Strummer and Mick Jones are at their best here. From the rawness of "White Riot", the anger of "What's My Name?", to the reagge of "Police And Theives".

What's something most people don't know about you?
I'm homeschooled. I remember telling Jordan from Final Summation and him being surprised on account of how social I am.