The Punk vs Rockabilly II show was promoted in this morning Ticket Section of the Bee. I've copied and pasted the story, or you can check out the article here.

Pop Life: Ready to Rumble
It's a battle of the bands in second 'Punk vs. Rockabilly'
By Chris Macias - cmacias@sacbee.com
Last Updated 6:33 am PDT Friday, April 25, 2008
Story appeared in TICKET section, Page TICKET32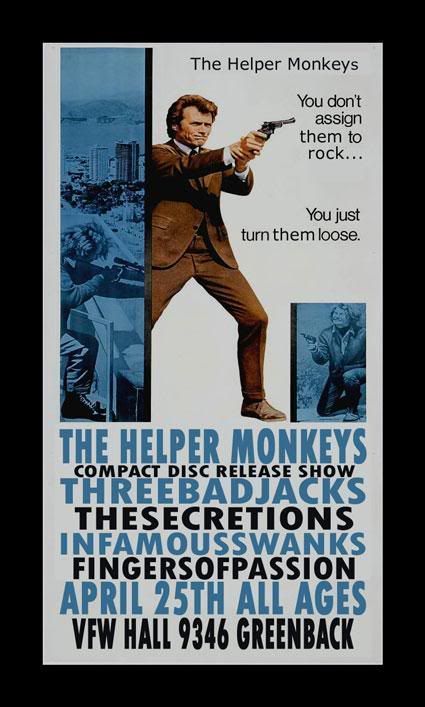 The rumble is on, rock 'n' roll style. In one corner you've got the punk rockers, ripping through songs with spiky hair. And on the other side it's the rockabilly crew, taking its cues from the early 1950s: pompadour hair and motorcycle boots for the dudes, and the ladies looking like Vargas pin-up girls or Bettie Page with an extra shot of attitude.

And tonight the punks and rockabilly masses are going to battle, in a steel octagon cage suspended over the VFW Hall in Orangevale. OK, so we're kidding about the wrestling ring. But tonight's show at the VFW Hall is the second edition of "Punk vs. Rockabilly," in which the two genres go mano a mano in a musical sense.

The Secretions, the Helper Monkeys and Fingers of Passion will throw down some punk rock. Rockabilly is represented by Three Bad Jacks from Los Angeles and the Infamous Swanks.

Now that the lineup is set, let's get it on!

"It's stand-up basses against electric basses," says Danny Secretion of local punks the Secretions. "Rockabilly has the cards stacked up against them. They've only got two bands, so we outnumber them. But there were more rockabilly bands at the first 'Punk vs. Rockabilly' show, so maybe they won that one. So hey, they win one, we win one, and then we'll have a third show to settle the war."

But this trash talk is just tongue in (pierced) cheek. Punk and rockabilly both celebrate rebel culture, and make that "Rebel Without a Cause" in the case of rockabilly. There's also lots of crossover between bands and crowds. Think of punkers Social Distortion covering Johnny Cash's "Ring of Fire" while rocking pompadour hairdos and white undershirts.

"What I notice is that people who came out to punk rock shows 10 years ago, a lot of them listen to rockabilly now," says Secretion. "I think it's all rock 'n' roll. We all listen to Eddie Cochran and some of us punked it out a little. I think since both genres get along so well, the shows go well, too."

So spike that mohawk or bust out that vintage bowling jacket – you know, the one that best shows off those hot rod and "mama tried" tattoos.

"Both punk and rockabilly have a lot to do with fashion – and anyone who says that punk rock (isn't about) fashion needs to lighten up," Secretion says. "People like to get dressed up when they're going out. The rockabilly people care about the way they dress, too. The guys have the biker boots, the jeans, the work jackets, and the girls look amazing. Who cares how much time someone's spending on getting ready for a show? They're having fun doing it."


Punk vs. Rockabilly

WITH: Secretions, Three Bad Jacks, Helper Monkeys, Infamous Swanks, Fingers of Passion
WHEN: 8 tonight
WHERE: Orangevale VFW Hall, 9346 Greenback Lane, Orangevale
HOW MUCH: $10
INFORMATION: http://www.myspace.com/secretions


About the writer:
Call Bee pop music critic Chris Macias,
(916) 321-1253.
Read his blog at www.sacbee.com/beatnonstop.

This show is also the all ages CD release show for the Helper Monkeys new self titled album. I already have it on my iPod and it's fucking awesome. I've been listening to it almost daily, right between Screeching Weasel and Rancid (not kidding). You can read more about their album in this bitchin' tidbit from the Sacramento News & Review.

Unfortunately, this show also marks the end for another Sacramento favorite of mine, The Infamous Swanks, because they've decided to call it quits. They are going to complete a mini-tour around California and Nevada in early May, then have their final show at the Fire Escape on May 11th. The show tonight is probably going to be the last time I will personally be able to see them because I won't be able to catch any of their tour dates and I bluntly refuse to go the Fire Escape (or any Junta Productions) shows. Sorry guys, I just don't support club owners that have unapologetically ripped off and fucked over most of my good friends.

So there you have it, a million and one reasons to get your ass out to the show tonight! See you there! I'll be the one stumbling around with a Bud Lite, punching people who look like they might step on my newly functional foot.