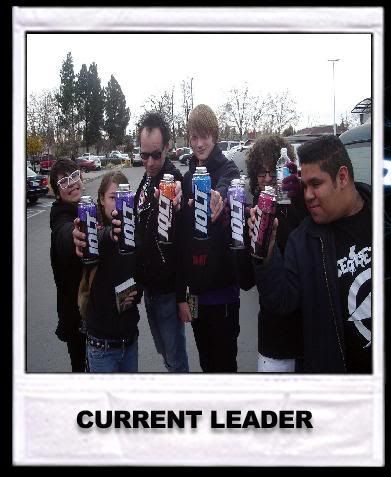 I entered this photo of some of the Secretins flyering into the Jolt photo contest a while back and it has remained in the top three photos ever since. It may have been the January winner, but since the January winner hasn't been posted yet, I don't know.

If you go to the Jolt home page, you'll see that I am listed as the December photo contest winner. That was for a different picture, one of me holding a grape Jolt. Which also means they haven't updated their fuckin' website since early January.

The shitty thing is, I haven't received my free Jolt for December yet and they wouldn't even reply to my emails until someone finally wrote me back last week and said they apologized for the mix-up and it would be on it's way.

From what I can tell, their webmaster is an idiot. If you visit any portion of the Jolt website, you'll notice it takes a moment to load. That's not your computer, that's their poorly designed website. And he hasn't even updated it in over a month and doesn't reply to emails. Douche.

Anyway, I'd like to see the Secretins take over the photo contest altogether.

Joe Friday entered a photo of him from the shoulders down in a Secretions shirt, sitting at a table with a glass bottle of Jolt in front of him and "J-O-L-T C-O-L-A" written in Sharpie across his knuckles. It's a pretty freakin' cool picture and deserves a vote.

Visit Jolt's website and sign up for an account. It only takes a second and they don't spam your email account or anything. After you have a log-in name, you can upload and vote on pictures, as well as do other things I've never cared to explore on their snails-pace website (like submit Jolt stories and videos).